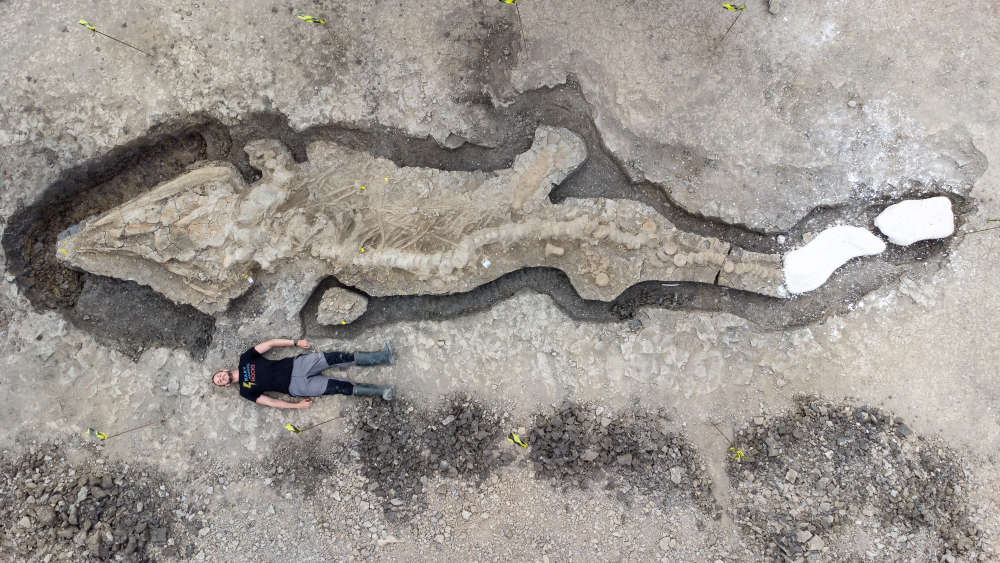 World icthyosaur expert, Dr Dean Lomax with the Rutland 'Sea Dragon'
The fossilised remains of Britain's largest ichthyosaur, colloquially known as a 'Sea Dragon', has been discovered at the Rutland Water Nature Reserve. Following last week's revelation of an ancient Roman mosaic that was found in a farmer's field in Rutland, this latest discovery is yet another 'internationally significant' find and has placed Rutland into the global spotlight once again.
Just a week after a Roman mosaic from nearly two thousand years ago was shared with the world, Rutland is back on TV with another historic discovery...this time dating back millions of years ago! The biggest and most complete remains of what was Britain's largest marine reptile have been discovered at Rutland Water. The icythyosaur or sea dragon is thought to date from 180 million years ago, and has been unearthed in one of the newer lagoons at Egleton. The remains have been fully excavated and will feature on BBC2's Digging For Britain tomorrow night, the second time in a week Rutland has featured on the programme. Joe Davis, Conservation Team Leader at Rutland Water Nature Reserve found the 'Rutland Sea Dragon' whilst doing some work on the lagoons:
"I was working in one of the lagoons at Rutland Water…and I saw [what I thought was] a ridge of stones'" says Joe. "I looked a bit closer, though, and realised that we were going to have to investigate this further. I contacted the council and asked 'who do I speak to if I've found a dinosaur?"
A palaeontologist from the University of Leicester then came out to check on Joe's discovery and confirmed that it was, in fact, not a dinosaur but a large ichthyosaur – a marine reptile from the Jurassic or Triassic period. It was subsequently fully excavated during August and September last year by a team of palaeontologists led by world ichthyosaur expert Dr Dean Lomax.
Ichthyosaurs first appeared around 250 million years ago and went extinct 90 million years ago. They were an extraordinary group of marine reptiles that varied in size from 1 metre to more than 25 metres in length, and resembled dolphins in general body shape. The hope is that heritage funding will become available to allow this ichthyosaur to be kept in Rutland and shared with the public.
This latest local archaeological discovery quickly follows the unearthing of a 3rd century Roman mosaic, discovered in a farmers field in Rutland in 2020. The mosaic, part of a floor of a roman villa, depicts scenes from Homer's The Iliad and is considered one of the most remarkable mosaics ever found in Britain.
The 'Rutland Sea Dragon' will be aired on BBC2's Digging For Britain on Tuesday 11th January at 8pm. For more information on the ichthyosaur and its discovery visit Rutland Sea Dragon (anglianwater.co.uk)