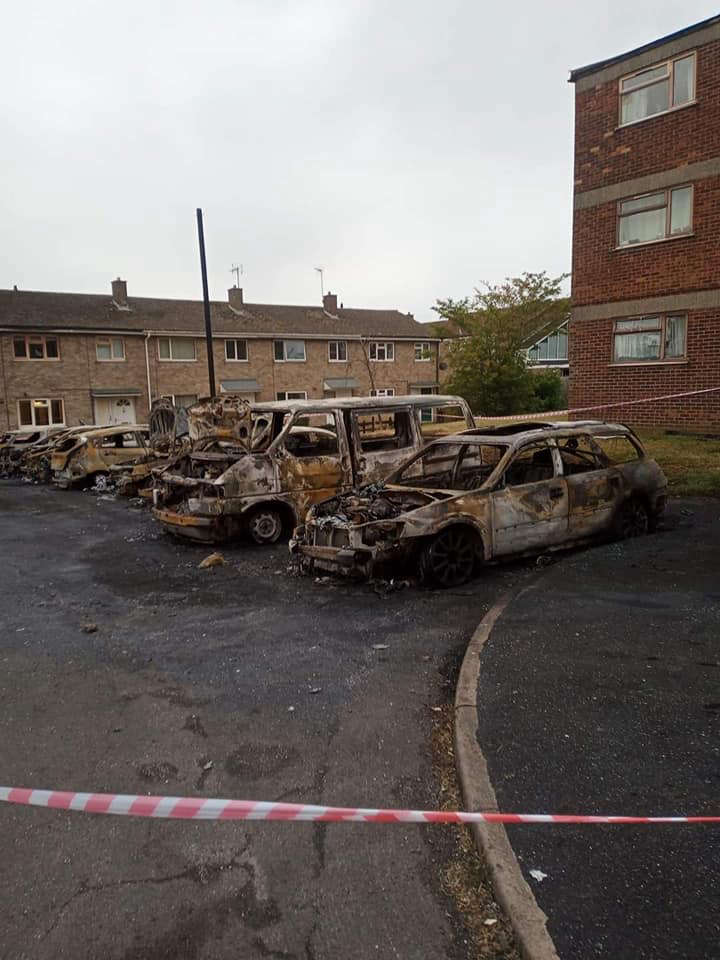 Eight cars which caught alight this morning.
A fire that spread to eight parked cars in a residential area in Stamford early this morning has damaged nearby houses. Fortunately, it appears that no-one has been hurt.
Firefighters from Stamford, Bourne and The Deepings tackled a multiple car fire during the early hours of this morning in Stamford. Eight vehicles, all parked in a row, were alight at around 2am. No-one is believed to have been hurt despite the blaze being close to houses and flats with some exteriors being damaged by the heat. Fire crews had to use thermal imaging devices and breathing apparatus while extinguishing the fire.
The blaze comes at a busy time for the fire services around the county, with field fires still a constant threat due to the extremely hot and dry conditions.
In other news:
Plans for an 81 Hectare solar farm have been revealed for Exton, promising to power 14,400 homes. A community consultation has been launched and runs until 14th August.
A burst water main at Great Casterton is likely to disrupt water supplies to the area, according to Anglian Water. Properties further north of the incident may also be affected. Work is underway to fix the leak and it is hoped to be repaired by midday today.
Stamford Police has said that anti-social behaviour in The Meadows area will not be tolerated and anyone involved will be asked to leave. The warning comes following an incident last night and a dispersal order is now in place, running for the next few days.
Power was interrupted in parts of Oakham, Barleythorpe and Langham yesterday by a suspected transformer fire. Power had been restored by yesterday evening.
To listen to today's entire news bulletin, please click on the Play icon below (if you're on a web browser) or the Listen button at the top (if you're on the app)!