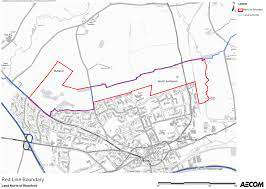 As plans firm up for 650 new homes to be built off the Casterton Road, locals are being encouraged to have their say about the development.
The developer working on the Rutland side of Stamford North is encouraging locals to have their say on initial proposals, particularly with regard to plans for a 30 hectare country park on the site.
As part of plans for 2000 homes for Stamford North, the developer Larkfleet plans to build 650 of them on Quarry Farm, just off Casterton Road. The development is being called Monarch Park. David Morris, Land Director of Larkfleet, hopes that it will be a development that will enhance the environment:
"For us, all of Stamford North is a sustainable urban expansion area as set out by South Kesteven and Rutland County councils" says David. "It's about coming forward with a very creative, sustainable development…and a real opportunity here is to build on the green infrastructure, the woodland and the habitat areas there and enhance them."
Details of the planned development, along with the public consultation form, can be found here: HOME | Monarch (monarchpark.co.uk) . The consultation will run until the 25th July 2021.