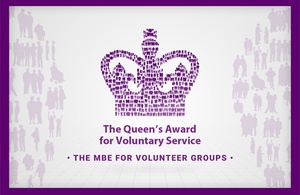 The Rutland Rotaract Family Support Centre (RRFSC), a local voluntary support organisation, has just won the Queen's Award for Voluntary Services.
The RRFSC is a voluntary support organisation that aims to provide social, recreational, educational and therapeutic support to children and young people with special educational needs or disabilities (from birth to age 25), and their families. Based in Oakham, it is managed and operated entirely by volunteers.
The Queen's Award for Voluntary Services, the organisational equivalent of the MBE, is the highest award given to charitable organisations and dates back to 2002. Kate Pickering, one of the RRFSC committee members, shared the good news with Rutland and Stamford Sound.
"It's absolutely incredible!" she says "I think we were all 100% taken aback by this recognition because we do what we do out of a passion to help local folk who have a child or young adult with a special educational need or disability."
Coinciding with Volunteers' Week, the Queen's Award recognises that volunteers have been vital throughout the coronavirus pandemic, and will continue to be as the country emerges from lockdown.